A&T MARCHING BAND SELECTED FOR
2012 MACY'S THANKSGIVING DAY PARADE®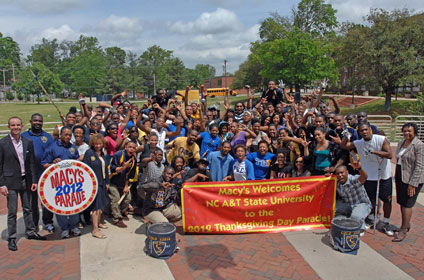 North Carolina A&T State University Marching Band members got the news of a lifetime Wednesday when official word came that they will perform in the 2012 Macy's Thanksgiving Day Parade®.

ACADEMIC ADVISING FOR NEW FRESHMEN TO BECOME CENTRALIZED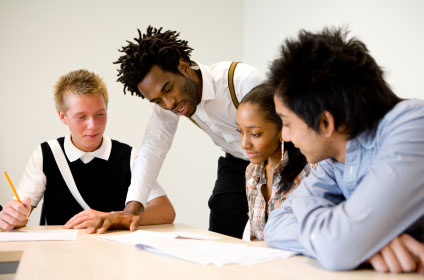 Effective June 1, North Carolina A&T State University will have a centralized academic advising system for all new freshmen.
Photo: iStockphoto.com/track5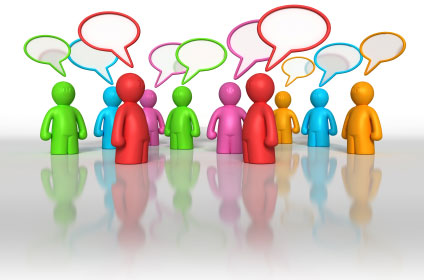 The editor of The Aggie Report wants your input to plan the content and frequency of future issues of this publication.
Photo: iStockphoto.com/Kronick


Research magazine available online
The spring 2011 issue of Evolution, North Carolina A&T's research magazine, is now online. Evolution is available on campus exclusively in its online edition via the Aggie Research blog and the Division of Research and Economic Development website. A limited number of printed copies are distributed off campus and to on-campus offices and individuals as needed.
The new issue features articles on Salil Desai's biomedical engineering research, Abdellah Ahmidouch's perspective on the Fukushima nuclear plant disaster, an interview with Provost Linda Thompson Adams, and research projects being conducted by five faculty members and two students. This issue also features a short column by Interim Vice Chancellor Celestine Ntuen. A longer version of the column is published on the Aggie Research blog with an opportunity for readers to share their thoughts on Ntuen's ideas regarding emergence and convergence.
B-school conducting alumni survey
Alumni of A&T's School of Business and Economics who graduated between 2001 and 2010 are asked to complete a Survey of Recent Graduates. The School of Business and Economics is preparing for a Maintenance of Accreditation visit in the fall, and the survey is part of a follow-up study to learn how well its programs prepared recent graduates for their jobs.
 
The survey takes about 7-10 minutes to complete. Click the following link and complete the questionnaire by Monday, May 2: https://www.surveymonkey.com/s/XBJNDBC.
 
The B-school also would like to learn what employers/supervisors think about its graduates, so please forward the Employer Survey to your supervisor/employer, and ask her/him to complete the following survey by May 2: https://www.surveymonkey.com/s/KG3QRH9.

Dean search forums
The Dean of Library Services Search Committee will interview candidates April 29-May 5, 2011. Open forums for A&T students, administrators, faculty and staff will be held in the Library Seminar Room at the following times: April 29, 1:30-2:30 p.m.; May 2, 3:15-4:15 p.m.; May 3, 2:45-3:45 p.m.; May 4, 4-5 p.m.; and May 5, 3:15-4:15 p.m. For other details, contact Nita M. Dewberry, associate dean of arts and sciences and chair of the search committee, (336) 334-7795 or dewbernm@ncat.edu.

Blackboard workshops available
North Carolina A&T State University will migrate to Blackboard 9.1 (Blackboard Learn) for the fall 2011 semester. Blackboard 9.1 is a totally revamped version of Blackboard that provides improved course management workflow and enhanced navigation and reordering features. In addition to changes on the control panel and the course menu, the digital drop box is no longer available. Student assignments must be submitted using the assignment feature in Blackboard.
All members of the faculty are encouraged to participate in the workshop prior to the start of the fall semester. This and other Blackboard 9.1 sessions will be available during the summer and fall semesters. To register online, visit www.ncat.edu/training. For other information, contact Tracie O. Lewis, coordinator of distance learning, at (336) 285-4491 or tolewis@ncat.edu.
MATLAB® is here
A&T is now a MATLAB® enabled campus. MATLAB® is a high-level language and interactive environment that is used extensively for data visualization, signal and image processing, communications, control design, test and measurement, financial modeling and analysis, and computational biology. It allows users to perform computationally intensive tasks faster than with traditional programming languages such as C, C++, and Fortran. For more information, visit www.mathworks.com/products/matlab.
Training sessions and the procedures for accessing the software are forthcoming.
JSNN is regional finalist
The Joint School of Nanoscience and Nanoenginering has been named a finalist for the first Przirembel Prize. The award promotes best practices in open innovation and recognizes collaborations among diverse organizations in the Southeast region. The other finalists are the Space and Naval Warfare Systems Command Mine-Resistant Ambush-Protected vehicle program and the Carolinas Nuclear Cluster collaboration.
The prize will be awarded Tuesday, May 10, at the InnoVenture Southeast 2011 conference in Greenville, S.C. For details, see coverage in The Business Journal and on the Przirembel Prize website.
A&T highlighted in UNC report
The University of North Carolina system has issued its annual report on research at the 17 campuses. Only two specific awards are highlighted in the report, and one of them is A&T's five-year, $5 million NASA grant for the Center for Aviation Safety (Kunigal Shivakumar, PI).
A&T ranks third in sponsored funding for the sixth consecutive year among the system's six doctoral universities.
Time to waive/enroll
Students have until Sept. 15 to waive or enroll in the university's Student Health Insurance Plan. Those who fail to waive coverage by the deadline will automatically be enrolled in the plan.
 
Students enrolled for six or more on-campus credit hours in the fall may submit the insurance waiver online prior to the deadline at www.studentinsurance.com. Students who do not have an existing "creditable coverage" health insurance policy must enroll in the UNC system-wide plan at www.studentinsurance.com.
Policies become effective Aug. 1 and ends Dec. 31 for the fall semester. The earlier students enroll, the sooner they will receive their insurance cards. 

The cost for the Fall/Spring Student Health Insurance Plan is $451 per semester.

The Sebastian Student Health Center Insurance Department is available to assist you with any questions regarding the waiver, enrollment process, or plan benefits. Please call us at 336.334.7880 if you have any questions or e-mail us at aggieins@ncat.edu.
Intramural national champions
A&T's Men's Intramural basketball team, Undisputed, is the 2011 NCCS National Champions. The team first won the 2011 NCCS Georgia Tech Regional Champions, earning a bid to participate in the national championships held in Austin, Texas, April 1-3, at the University of Texas. Jeremy James was named MVP of the championship game scoring 30 points and Herbert Rhedrick was named to the All-Tournament Team. Way to go, Undisputed!


Zerihun Assefa
, associate professor in the Department of Chemistry, and Carlos Crawford, an undergraduate student in chemistry, in collaboration with Richard E. Sykora of the University of South Alabama, have authored a peer reviewed article titled "Solid-State Photoluminescence Sensitization of Tb3+ by Novel Au2Pt2 and Au2Pt4 Cyanide Clusters," in the
Inorganic Chemistry
journal, 2011 (Vol. 50, No. 4, pp. 2199-2206).
Brandis Phillips, assistant professor in the Department of Accounting, conducted a poster presentation, "Use of Games to Simulate the Accounting Cycle," at the American Accounting Association Mid Atlantic Regional Meeting, in Baltimore, Md., April 22.

Philip Rubio, assistant professor of history, has won the 2011 Rita Lloyd Moroney Senior Prize from the U.S. Postal Service for his book, There's Always Work at the Post Office: African American Postal Workers and the Fight for Jobs, Justice, and Equality (Chapel Hill: Univ. of North Carolina Press, 2010). The book details the critical role African American postal workers played in the U.S. labor and black freedom movements. Rubio himself is a former postal worker. Read more about the book→
The Rita Lloyd Moroney Awards are designed to encourage study and publication of the history of the American postal system and to raise awareness about the significance of the postal system in American life.

Musibau A. Shofoluwe a professor in the Department of Construction Management and Occupational Safety and Health, has received a grant of $800,000 from the U.S. Department of Housing and Urban Development for his project, Community Empowerment and Sustainable Workforce Development, which was designed to have an impact in the target area (Census tracts containing the greatest concentrations of poverty in Greensboro and Guilford County) through employment opportunities in green construction; weatherization and maintenance assistance to low-to-moderate income home owners; energy conservation education; the stabilization and expansion of minority owned businesses; and job creation. A significant portion of the project activities will take place at A&T's Business and Entrepreneurship Training Center, reinforcing the university's goals for public service and strengthening its ability to serve the residents of Southeast Greensboro.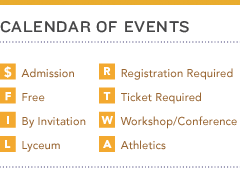 APR 29
Approved printed thesis/dissertation copies for binding due in Graduate School Office
Location: Gibbs Hall



APR 29 | 10:00 a.m.
HR Open Forum Employee Info Session on
New and Revised Policies
Location: Proctor Hall, Room 160



APR 29 | 11:59 a.m.
Deadline to register for fall 2011 semester



MAY 1 | 3-8 p.m.
Finals First Free Tutoring (Accounting, Biology, Chemistry, Math, Physics, Spanish)
Sponsor: Center for Academic Excellence
Location: Memorial Student Union,
Stallings Ballroom



MAY 2-6
Final Exam Week



MAY 5-7
Alumni Reunion Weekend



MAY 6 | 2:00 p.m.
Waste Management Certificate Program
Location: Memorial Student Union,
Exhibit Hall



MAY 7 | 8:30 a.m.
Commencement
Location: Greensboro Coliseum


MAY 9
Final grades due

MAY 13 | 8:30 a.m.-3 p.m.
Tabletop Emergency Exercise Drill
Location: Alumni-Foundation Event Center,
Ballroom 103


CHANCELLOR
Harold L. Martin Sr.
VICE CHANCELLOR FOR UNIVERSITY ADVANCEMENT
Mark Kiel
ASSOCIATE VICE CHANCELLOR FOR UNIVERSITY RELATIONS
Nicole Pride
EDITOR
Sandra M. Brown
PROOFREADER
Nettie C. Rowland

CONTRIBUTING WRITERS
David Arneke
Samantha Hargrove
Orlando Veras (Macy's)

PHOTOGRAPHER
Charles E. Watkins
PRODUCTION
Margaret Vap
CREATIVE SERVICES
Bouvier Kelly, Inc.